A misdemeanor is not just minor legal problems or "brushes" with the law. Many times, a good person can and does make a mistake or offense punishable with a fine, limited incarceration, or both. Some examples of misdemeanor charges include private property trespassing, public intoxication, or vandalism. These instances may incur a short stint in jail or a nominal fine. If it is your first offense, you may or may not be eligible for diversion: where counseling and/or community service may substitute and possibly result in charges eventually being dismissed.
However, even if the case doesn't go to court or you accept a reduced plea deal, the misdemeanor and arrest record stays with you for the rest of your life. Your best bet with any charge, big or small, is to consult an experienced attorney. A trusted lawyer can help you get a charge reduction. They may be able to get the instance expunged from your public record altogether. Read on to see four ways a misdemeanor charge can negatively impact your life and how a defense attorney can help you get back on track.
Table of Contents
Job Applications
It is crucial to realize that a misdemeanor charge will appear on most background checks conducted by potential employers. It is the right of any employer to investigate your history before offering you a job within their company. Some positions or careers even require employees to have a clean record, and any marks against you can disqualify you instantly. You can and should expect to divulge details even for a misdemeanor – failure to do so may also result in disqualification and termination.
Depending on the nature of the charges, you may be barred from jobs in the healthcare industry, positions working with seniors, children, and at-risk populations, banking, and any stores selling liquor, guns, or firearms. Your future and employment opportunities can and will be affected, so hiring a defense attorney for any misdemeanor charge is critical!
College and Educational Consequences
Though each university has its own policies, many are stringent when admitting students with a criminal record. For example, charges against an Arizona State University student would be handled in the same manner as any other criminal charge. While this is a serious enough consequence, students are also subjected to disciplinary measures from the university. Examples of these measures include being served a code of conduct violation, a requirement to appear in a disciplinary hearing, as well as possible suspension or expulsion.
If you are a college student or the parent of a college student who is facing misdemeanor charges, it is recommended you hire a defense attorney. A defense attorney will determine what course of action to take to avoid criminal charges, which in turn will help the university decide its course of action.
Renting a Home or Getting a Mortgage
Similar to potential employers, landlords typically make it a point to conduct a detailed background check on written rental applicants. Landlords may deny your request if the misdemeanor charge occurred within a certain time period. If the misdemeanor charge was violent or sexual in nature, your chances are even more diminished.
Many assume that when renting, a background check is standard. However, not everyone realizes that they can also run into problems when applying for a home loan. Most private lenders are especially concerned with a misdemeanor that is financial in nature, such as fraud or theft. With a criminal record, lenders have the right to reject your application even if you have an excellent credit score.
Child Custody and Adoption
If you are facing a misdemeanor charge and going through a divorce, it is an unfortunate truth that a ruling judge may grant custody of your children to your spouse if they have a clean record and you do not. Again, cases where the misdemeanor was violent or sexual in nature, are considered especially problematic. Unsurprisingly, domestic abuse is another serious offense when dealing with divorce proceedings and child custody. Even if you currently have custody of your child(ren), the state of Arizona may still regard you as unfit due to previous misdemeanor charges.
Likewise, adopting a child can be even more difficult if you have a misdemeanor charge. There are copious amounts of paperwork and red tape to get through in the process of adopting a child. This process becomes even more complicated when you have a record.
For many of us, there is nothing more important in life than our children. If you are facing a misdemeanor charge which may result in the loss of custody, please contact your defense attorney immediately. It is imperative that you get ahead of the situation before a judge can determine you unfit.
The Importance of a Strong Defense
You may think your misdemeanor charge is "no big deal". That is not the case. Misdemeanor charges can negatively impact many areas of your life. Working with a defense attorney like Jeff GOULD Law, the Attorney In YOUR Corner, to get the charges dropped and your record expunged can make or break so many aspects of your life. Many of us make mistakes, and many of us are prepared to put the past behind us and move on emotionally. Don't let a misdemeanor charge derail your life!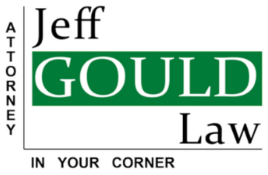 DISCLAIMER: The information on this blog/site is NOT, nor is it intended to be legal advice. It is for general informational use only. You should consult an attorney for advice regarding your individual situation. Further, this information does not create an attorney-client relationship.